Postad av
Johan Åhlund
i
Film
Jag tror aldrig att jag har sett en Lamborghini Miura 400 Jota till salu förr. En original Miura har i mitt tycke allt som man kan kräva av en bil. Design, prestanda, pondus och inte minst en rejäl skopa brutal charm. Priset var dock i de trakter som man kunde ana. 2.750.000 € utan moms. Eller som de skriver på Autosalon – The price with 2.750.000,–Euro is the minimum price. We sell this rare car car worldwide exclusive and we are waiting for the offers. Tillsammans med en Lamborghini Countach 5000QV eller en Ferrari 288 Gto är detta min absoluta dröm. Annonsen finns HÄR. Intresserade gör även ett besök på Von Braun Sports Cars.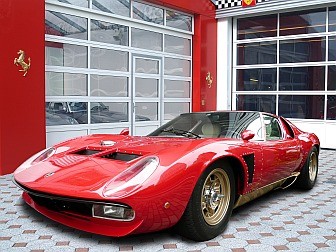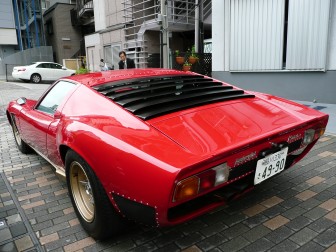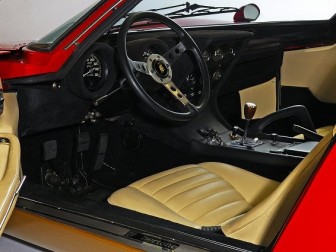 Jag tar mig friheten att klippa ut annonstexten och lägga den här:
This Lamborghini Miura P400SV/J was completed April 1972 to SV specification.Argento Met. / Black leather with Beige cloth centres. Converted to SV/J specification, completed April 1972. Rosso Granada Met. / Black leather.Delivered new to Alberto Silvera, Port au Prince, Haiti. After an extensive restoration at the factory in 1997 it was sold to a collector in Japan. The car hath Japan registration. After the restoration this original factory SV/J features a red with cream interior and a black 'reversed leather' dashboard. This car is a very special investment and the only available original Jota for sale. The price with 2.750.000,–Euro is the minimum price. We sell this rare car car worldwide exclusive and we are waiting for the offers.
Note that only five Miura SV/Jota's are considered to be the only 'official' factory cars worldwide !
Another car with chassis 4934, was built for the Shah of Iran Mohammad Reza Pahlavi. The Shah stored this car under armed guard with another SV in Royal Palace in Tehran. After he fled the country during the Iranian Revolution, his cars were seized by the Iranian government.
The SV/J specification was fairly comprehensive and generally cost around 60% more than a stock Miura SV. Engines were specially prepared to produce between 405-415bhp and featured larger inlet ports, a balanced crankshaft with polished connecting rods, one car (chassis 5100), also getting dry sump lubrication. Straight through competition exhausts were there, the ride-height dropped and firmer anti-roll bars fitted. Suspension got stiffer springs and dampers. Visually, the SV/J was a stunner with its Jota-esque details. At the front, there were fixed headlamps housed under Plexiglas covers, supplementary driving lights and a prominent chin spoiler. The regular SV's black front lid grilles were removed and left gaping open, a Monza quick-fuel filler was peeking out from just above. Meshed brake cooling vents were carved out from behind each wheel-arch, several riveting surrounded most of these bodywork alterations. The interiors was largely similar to standard SV's although racing belts and extinguishers were nearly always fitted. Five original SV/J's were completed by the factory in period, two of them new, the remaining three were converted from stock SVs.

Info om bilen från Supercars.net
Lite film är väl ett måste 🙂
Andra bloggar om: film, lamborghini, miura, jota, sportbil, supercar, ferrari, countach, prestanda, maserati, annons, italien, acceleration, the italian job, italiensk, porsche,